Reasons for choosing 'Silentdoors'
Our Silentdoor range offer a solution to noise reduction for the areas where a higher acoustic performance is required than that offered by standard 'off the shelf' timber doors. Silentdoors are hand made to suit your requirements and available in a number of different finishes from primed to veneered and with furniture packages to suit most applications, ensuring that these comply with any standards (such as BB93) that may need to be met.
Why are Silentdoors required?
Silentdoors may be required for a number of reasons depending on the application or environment that they are to be fitted but include:
Privacy: Suitable for use in the Health, Police, UK Border Force and other areas where sensitive and private information may be discussed
Education: Prevents noise breaking out or in to other areas and affecting the learning or teaching experience
Offices: Separating meeting rooms from general areas so that tasks and discussions remain unaffected by works within other areas
Any other environment that requires sound reduction treatment between two areas.
What is a 'Silentdoor'?
An acoustic door is a specialized doorset which performs far greater than standard doorsets when there is a necessity to reduce sound levels between two areas.
Silentdoor timber acoustic doorsets are hand made to your bespoke requirements and consist of:
Hardwood frame and door stops
Hardwood and MDF door leaf in a finish to suit your requirements (primed, veneered or laminated)
Grade 14 SSS hinges
Full set of acoustic seals
Full set of intumescent and smoke seals for fire rated doors
Drop down automatic seal to bottom of door leaf to prevent damage or wear
Aluminium threshold strip
Each door can be supplied with or without door furniture depending on your requirements. We can also fit your own furniture subject to an assessment being carried out to ensure it is compatible with our door design and suitable to ensure the door leaf is retained in position against the seals.
Each doorset is supplied to the handing required (position of latch or handle in respect to which way the door opens) and this applies to both single and double doorsets. Vision panels can also be incorporated in to the design of the door in conjunction with your requirements.
All our doors can be manufactured to meet the requirements laid down under the Equality Act 2010 (EA) in England, Wales and Scotland with the Disability Discrimination Act 1995 (DDA) is still in force in Northern Ireland.
Other sources of information that are available when looking at specifying doors are Approved Document M, BS8300 and many people still refer back to the DDA guidelines when looking at accessibility and doors although this has been repealed and superseded by the EA.

Product Selector
See chart below for technical data and options available for our Silentdoor range.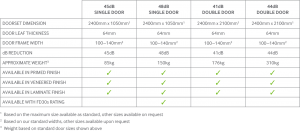 As well Silentdoor timber acoustic doorsets, H&H Acoustic Technologies Ltd can supply a range of acoustic flooring, comprehensive range of wall and ceiling treatments and acoustic materials to resolve sound reduction issues.
We also are able to provide full support and acoustic testing through our fully qualified acoustic consultant.
For further information and assistance please contact Matthew Allen at H&H Acoustic Technologies Ltd, 23 Princewood Road, Earlstree Industrial Estate, Corby, Northamptonshire NN17 4AP
Tel: +44 (0)1536 270 450  Email: matthew.allen@acoustictechnologies.co.uk
SilentDoorTimber Acoustic Doors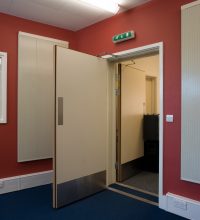 SilentDoorTimber Acoustic Doors
Description: SilentDoors are high performing doorsets designed to offer the additional performance that cannot be provided for by standard doorsets. These are hand made, bespoke internal acoustic timber doorsets that are supplied pre-hung using Grade 14 stainless steel hinges.
SilentDoors can be supplied as single and double doorsets handed to suit specific requirements and supplied either as a primed, veneered or laminated to suit other doorsets where required and with or without door furniture.
Application
Single doorsets supplied as 45dB or 48dB acoustic rating
Double doorsets supplied as 41dB or 44dB acoustic rating
Double doorsets supplied as 41dB or 44dB acoustic rating 48dB rated doorsets also can be supplied to achieve FD30s fire rating
All doorsets supplied with automatic drop down seal to the bottom edge
Vision panel compatible
Technical Data Sheet
Need advice on flooring?
Ask our experienced engineers.
Call +44 (0) 1536 270450