Environmental noise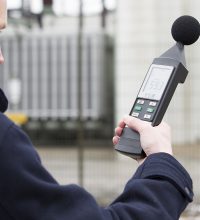 Environmental noise
Reasons for choosing H&H Acoustic Consultancy?
With a broad area of expertise our professionally trained staff can offer assistance in wide ranging areas of acoustics from the start to finish of a project. Whether assis-tance is required at the very early planning stages or if sign-off of a completed project is required we are able to assist. In addition our breadth of expertise allows us to consider projects from a number of different acoustic angles often resulting in more cost effective and practical solutions.
Why are environmental noise services required?
Residential and commercial developments require assessments to consider noise impact (residential) and noise generation (commercial). These assessments apply to any commercial site where additional noise sources are proposed and to all pro-posed residential sites. In addition commercial sites with ongoing activities may require periodic assessment to confirm noise levels are within permissible limits.
What assessments can you help with?
BS 8233:2014 'Guidance on sound insulation and noise reduction for buildings' —is typically applied when considering newly formed residential properties affected by noise sources such as roads and railways. It provides reference for suitable assessment methods as well as giving guidance on noise level limits for habitable spaces.
World Health Organisation (WHO) Guidelines — although not normally referenced in planning conditions these guide-lines help inform a number of official documents and is often cited in discussions around the subject
BS 4142:2014 'Methods for rating and assessing industrial and commercial sound' — is typically applied when considering noise from a commercial/industrial source the affects nearby sensitive locations such as residential properties.
MPG11 'Minerals Planning Guidance Note 11' or MPS2 'Minerals Policy Statement 2 "Controlling and Mitigating the Environmental Effects of Minerals Extraction in England: Annex 2: Noise" – is used to consider the noise impact of mineral extraction (such as quarrying) on nearby noise sensitive locations.
IPPC Horizontal Guidance for Noise Part 2 – Noise Assessment and Control – this guidance references multiple documents including those listed above. A noise management plan is required within this document and makes consideration of best available technique (BAT) approaches to noise control.
HTM08-01 : Acoustics — considers noise affecting healthcare buildings and is enforced to protect future users of the site from distracting noise sources and sleep disturbance. Typically this is required before/during the design stage and helps inform specification of external envelope elements
BB93 — Acoustic design of schools: performance standards — this document considers many areas of acoustics within schools. For the purposes of environmental noise considerations it serves to protect users from nuisance external noise sources and ensure a beneficial learning/teaching environment.
What happens during an environmental noise survey?
Typically an environmental noise survey will fall into two elements. Firstly a long-term measurement is normally required; this will require that sound level metering equipment be left on the site over a weekend period. Secondly a manned de-tailed assessment is conducted (typically at the time of set up or collection of the long-term metering) to determine specific noise source at the site or affecting the site.
How long does the process take?
Depending on weather conditions and site specific details the process will normally be completed within a 1 month working period.
How do I get in contact and discuss my needs?
The best way to get in contact is via our main telephone number (01536 270450) or via our email address: info@acoustictechnologies.co.uk.
Need advice on flooring?
Ask our experienced engineers.
Call +44 (0) 1536 270450