Residential sound testing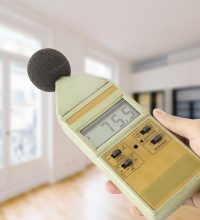 Residential sound testing
Reasons for choosing H&H Acoustic Consultancy?
With a broad area of expertise our professionally trained staff can offer assistance in wide ranging areas of acoustics from the start to finish of a project. Whether assistance is re-quired at the very early planning stages or if sign-off of a completed project is required we are able to assist. In addition our breadth of expertise allows us to consider projects from a number of different acoustic angles often resulting in more cost effective and practical solutions.
Why is sound testing required?
Sound Insulation testing is required to ensure privacy and prevent nuisance between new build and refurbished dwellings used for residential purposes. This includes all variations of dwellings including houses, apartments, hotels, student halls and long-term healthcare units.
What assessments can you help with?
Approved Document E (England and Wales) — testing is required to show that suitable protection is offered by party wall and floor constructions across the whole site. The required level of sound insulation is based on the type of project and proposed use of the space.
HTM08-01 : Acoustics — sound insulation between spaces within a healthcare building is required for speech privacy. The requirements vary with space usage and are usually combined with a full HTM08-01 assessment.
BB93 — Acoustic design of schools: performance standards — sound insulation within schools is targeted at distur-bance prevention. The target level is calculated on a space-by-space basis and is normally completed in tandem with a full BB93 assessment.
What happens during a sound insulation assessment?
There are three stages to a sound insulation assessment—design, construction and verification. It is highly recommended that any proposed solutions for provision of sound insulation be checked prior to the construction phase of the project. A design assessment can be based on a proposed construction outline or in more complex installations drawings can be as-sessed. If any changes are required these will be determined an specified. Attention to detail during construction is critical and as such guidance is typically provided, an additional service of periodic site assessments during the construction phase is available where required. Once construction has been completed it is possible to conduct final testing, this comprises of a site visit to assess a number of example constructions.
What happens after a sound insulation assessment?
At all stages of the process a report is issued that is suitable to 3rd parties. In the case of design advice it is common to have a process of conversation with the client to agree on a preferred solution. Upon final testing an assessment is submitted to the accrediting body (which ensure Building Control will accept the report) along with a report issued to the client detailing the results of the testing. In the rare case that testing should result in failure support will be offered to determine the cause and suitable remedial measures recommended.
How long does the process take?
Depending on availability of drawings and/or site access the process will normally be completed within a 2 week working period.
How do I get in contact and discuss my needs?
The best way to get in contact is via our main telephone number (01536 270450) or via our email address: info@acoustictechnologies.co.uk.
Need advice on flooring?
Ask our experienced engineers.
Call +44 (0) 1536 270450