CPD presentations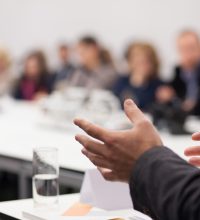 CPD presentations
Reasons for choosing H&H Acoustic Consultancy?
With a broad area of expertise our professionally trained staff can offer assistance in wide ranging areas of acoustics from the start to finish of a project. Whether assistance is required at the very early planning stages or if sign-off of a completed project is required we are able to assist. In addition our breadth of expertise allows us to consider projects from a number of different acoustic angles often resulting in more cost effective
Why are CPD Presentations useful?
In an increasingly large area of business acoustics is becoming a primary consideration. Whether it is related to acoustics within the business or if it relates to clientele an understanding of the subject can assist with deci-sion making and inform product recommendations.
What areas can you help with?
Principles and theory – a foundation in acoustic theory can be applied in a number of different areas and allows an understanding of mechanisms at work.
Sound Insulation Theory and Practice – the correct specification of acoustic materials early on in a project is key to achieving a positive outcome. Understanding the physics at work will allow reasonable flexibility in the approaches taken and allow early identification of projects where problems may occur.
Reverberation – Understanding the mechanics of reverberation control allows optimal placement of materials and specification. It also provides an understanding of where reverberation control is useful/applicable and can help avoid unnecessary or incorrect specification.
What is happens during a CPD session?
CPD sessions can be provided at our offices in Northamptonshire or at an agreed venue. Typically a single CPD session will be 1hr long but where more in-depth discussions are desired longer sessions can be arranged. Each session will be accompanied by suitable handouts and a Q&A session at the end. Typically contact details of the presenter will be available should any further questions arise at a later date.
What happens after a CPD session?
We pride ourselves on being an open and helpful service, as such any CPD session will likely lead to a point of contact within the acoustic industry willing to assist with any queries. Follow up sessions can be booked in the context of completed elements ensuring a continued and linked instruction in the subject.
How long does the process take?
Typically a CPD session be arranged and completed within a 1 month working period.
How do I get in contact and discuss my needs?
The best way to get in contact is via our main telephone number (01536 270450) or via our email address: info@acoustictechnologies.co.uk.
Need advice on flooring?
Ask our experienced engineers.
Call +44 (0) 1536 270450